Super exciting news from Apple: On their YouTube Channel they dropped a trailer about Final Cut Pro and Logic Pro now for the iPad. Everything you need to know in this article:
[Video] Final Cut PRO & Logic PRO for the iPAD!
As my Youtube Channel is currently all about DaVinci Resolve for the iPad, i think its great news that we have more and more of the professional Software coming to the iPad. But i also have a ton of question. Especially since we figured out, that DaVinci Resolve for iPad is actually the full Version of DaVinci like on the Desktop. We were able to find a way how to unlock all the Pages. The reason while some of them are hidden, is that some features are not yet working on the iPad. But it is just a matter of time, until we will have them.
Also DaVinci Resolve iPad in the FREE Version is 95% of all features. This is amazing. So let's see how Final Cut Pro for iPad can compete.
Watch the Apple Trailer about Final Cut and Logic on iPad first
What is the release day of Final Cut Pro iPad and Logic Pro iPad?
While the trailer is a bit misleading, i first thought its already available so i jumped into the German Appstore but couldn't find the App. I later found out that both apps will be released on May 23rd 2023. So we have a bit of waiting time.
How much will Final Cut Pro and Logic Pro on the iPad cost?
Final Cut Pro for iPad and also Logic Pro for iPad is available as a monthly subscription for just $4.99 or a yearly subscription for $49. You can activate a one-month free trial after installing Final Cut Pro for iPad from the App Store.
Lets come to the Ugly: Is Final Cut Pro on iPad really Pro?
My biggest question in my own video was: "How professional will the iPad Version of Final Cut Pro really be?" But it seems that there will be differences between the iPad Version and the Desktop Version. Biggest issue at the moment, you can't interchange projects easily from iPad to Desktop and back to iPad. However you can export your project from iPad and continue on the Desktop. But its not possible to bring it back to the iPad…
What? That for me is a big minus… DaVinci Resolve iPad has no Problem to continue working on the desktop. Hit save and via Black Magic Cloud even without exporting my project to work on my iPad.
Another big issue seems to be that we can't use external SSD Harddrives. You always have to copy the files onto the internal iPad storage. One side in me says, that can't be? Because the files app can handle external SSD's and other Software on the iPad can access the files app and so they also have access to external Hard Drives. I hope if this its true, that this is only an update away from being fixed. Because as an editor you need storage. Especially if you work with huge files. Like for example they promote that Final Cut Pro on iPad can work with ProRES Files and Projects. These files are massive!
Export a project to Final Cut Pro for Mac to access features like advanced color grading, object tracking, and more.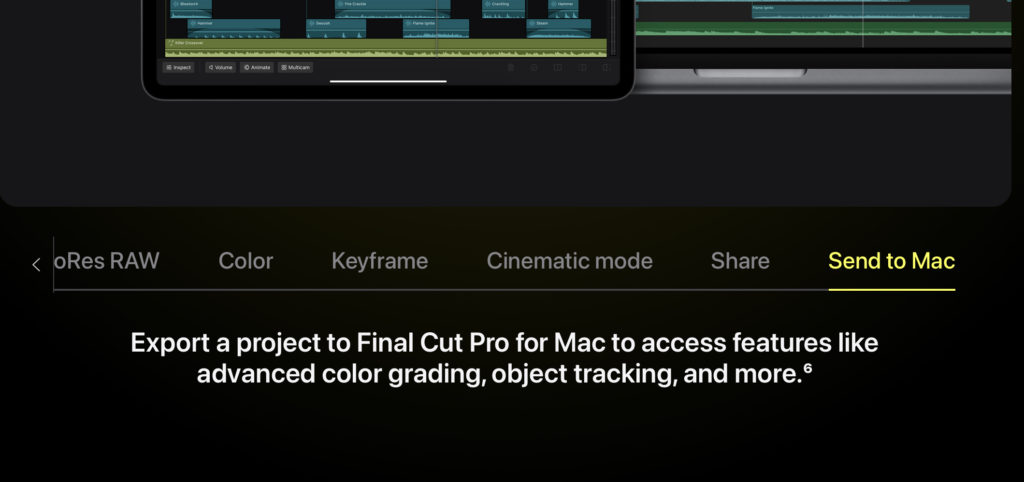 This is a sentence i found on the Apple website about Final Cut Pro iPad here. Which already indicates that some features will not be on the iPad Version. Advanced Color Grading? When i read that i had to shake my head. DaVinci Resolve as the leading Color Grading tool in Hollywood was able to bring the full Color Page to the iPad. That means you can do everything a professional Colourist on the Desktop would just using an iPad. Seeing Final Cuts Pro advanced Color Tools behind DaVinci Resolve, you don't even have the full access to the limited Color Features on the iPad.
Or Object Tracking. Will not be on the iPad. Interesting. In DaVinci Resolve we have something called Magic Mask in the Studio Version which with n click you have a subject and you can track that subject.
Let's come to the good: Live Drawing
Draw, highlight, and write directly on footage with touch or Apple Pencil to create unique handwritten titles and illustrations. This is the one feature im personally hyped. I see my self using Final Cut Pro on the iPad just for that feature. So doing everything in DaVinci Resolve for the iPad and then just use then one feature.
Conclusion – How will this impact the iPad Editors?
There are alot more features that are all covered on the officiall website from Apple. Check out the Press Release here. Will this App be a competition to DaVinci Resolve on the iPad?
Already the fact that this is a subscription based model will turn alot of people away and rather get the FREE DaVinci Resolve iPad Version. But to be fair, the price is okay. For $49 a year this software is not expensive. What i'm more worried about is the fact that it is not the complete Final Cut Pro. Especially the fact that for some features you still have to go to the Desktop app.
I like that they are coming to the iPad because competition is always good. But i feel like, DaVinci will own the king of Editing Software on the iPad. There is just so much more that speaks for DaVinci. Not even including the fact, that we found a way to open all Pages in DaVinci Resolve which gives you the complete DaVinci Resolve experience.
Future will tell. If you can't wait to edit: I recommend switch to DaVinci iPad and join our Community and the MasterClass from Beginner to Pro.
Something Funny to the End: Apple's New Pro iPad Apps Stink!