To become a better Filmmaker and to be faster, it is very handy to shorten the learning courve with these Products, Services or Books. Also for all my YouTube Channels, i don't want the headach of free music anymore. For years i used just free music and still got lots of copywright issues on my channel. Since Epidemic Sound, these days are gone.
Disclosure: Please note that some of the links below are affiliate links, and, at no additional cost to you, I may earn a commission if you make a purchase. I use all the companies listed here and recommend them because they rock and have made my life as a Filmmaker easier.
Learn DaVinci Resolve for the iPad here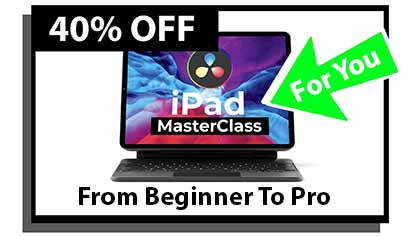 DaVinci Resolve iPad MasterClass
From Beginner To Pro
Learn everything you need to know about DaVinci Resolve on the iPad. More than 140+ Videos and lots of Bonuses included.
Seamless Transition Pack
For DaVinci Resolve on iPad
It is a great way to make your cuts more interesting, modern and dynamic! These transitions allow you to easily stand out from the crowd with 80+ dynamically animated transition effects optimised for DaVinci Resolve on the iPad.
8K Film Grain Bundle
For DaVinci Resolve on iPad
This include 3x of our best Film Grain Packs from 8mm, 15mm and 35mm. All available in Full HD, 2K, 4K and 8K DCI! Simple Drag & Drop to your Timeline and Loop the Clips – Done! 😍 Supports Up to 8K Video Timelines.
Keyboard Covers from Editors Keys
Sound Design + Stock Footage
Royalty free music for your videos
Get unlimited access to music and sound effects catalog for your videos, streams and podcasts.
▷ There are more amazing VFX Packs available from MotionVFX. Check out here.
▷ There are more amazing Motion Packs available from BigFilms. Check out here.
Learn everything you need to know to make money from your own Online Courses. This Course teaches you what you need. The Walbeck brothers are some of the most successful course creators out there.
The ONE IN ALL Plattform! Host your Online Courses. Powerful Automations! Website Builder. E-Mail Marketing… Everything you need as a Course Creator. Our Courses are hosted on CC360!