Did you know, that Blackmagic has a Free Sound Library for DaVinci Resolve that you can use and download? It even works on the iPad Version of DaVinci Resolve. The cool thing about the Sound Library Feature built in to DaVinci, once added Sound Effects you can alway access through all your projects. In this article i show you how you can get the FREE Sound Library even on the iPad. Enjoy.
Pro Tip: Make your Videos Cinematic (and save a tone of time) with our Seamless Transition Pack for DaVinci Resolve iPad. – This Pack also comes with another 125 SFX. Like Glitch Effects that are missing in the Blackmagic Free Sound Library.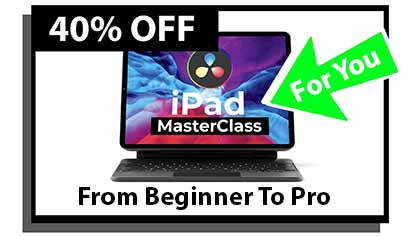 [Video] How To ADD FREE Sound Library 🎵 DaVinci Resolve iPad
How to download the Blackmagic Free Sound Library to the iPad?
Maybe you have noticed when you open the Fairlight Page and click on the top on "Sound Library" that left a window will open. When DaVinci Resolve does not yet have any SFX (Sound Effects) in your Library it will show you the message "Download DaVinci Resolve's Free Sound Library"… But when you click the Download Button you will be redirected to a registration page on Blackmagic. And the Downloaded Files is not possible to open on the iPad. The reason is: That this files is an installation file for Mac or Windows and can not be installed on the iPad. (Currently)
Info: To open the Fairlight Page on iPad follow the instructions in this article here.
Solution: In order to install the Free Sound Library to your iPad, you have to first install the Library on your Mac or Windows. You can use the downloaded file or navigate to the Blackmagic website. Open the Support page and search here for "Sound Library". You will get the following result:
Blackmagic Fairlight Sound Library 1.0 – Download the Windows or the Mac Version depending on your machine. After you installed the files it will create a folder with all the Free Sound Effects. You can even install this Library to and SSD Drive. Or copy it later to the SSD. Bring the SSD to the iPad.
After you have your Free Sound Library on your SSD you can decide if you want to bring it into the iPad or always work from the SSD. The later is possible, but you have to remember to plugin your SSD if you want to use the SFX in DaVinci Resolve for iPad.
My recommendation: Copy the Sound Library from the SSD to a Folder inside of your iPad. That way you alway can use the Sound Library on the iPad.
How to Add Sound Effects to the Sound Library in DaVinci Resolve iPad?
Step 1: (Very Important) – If you have multiple Project Libraries for DaVinci Resolve on the iPad, you have to first select for which of the Project Libraries you want to add/create a Sound Library. Because DaVinci lets you create specific Sound Libraries for each Project Library.
In order to do that: Go to the Fairlight Page and open the Sound Library. Under the three dots, you will find an icon with two lines and a arrow to the top. (See screenshot above) click this icon and now a new Drop down menu appears below that line. By default it will use the Local Library. But if you also created a Project Library for example on your external SSD, then you can also select that one (if you work from that one). In my case i created a Project Library for my DaVinci MasterClass just on the external SSD. So if i want to use the Sound Effects while working on Project there i need to select this Library now.
Most people will probably just have the Local Library. If so you can skip this step.
Pro Tip: Why should you have a different Project Library then the default one? Read this article and avoid losing all your DaVinci Resolve iPad Files: "AVOID THIS MISTAKE – I Lost all Project Files in DaVinci Resolve iPad" – Here you learn how to setup a Library even on your SSD (Perfect if you swap Projects between Desktop and iPad.
Step 2: In the Sound Library (Icon on the Top). Click on the three dots, and select "Add Library…". Now go to your folder that has all the Sound Effects. The root folder is enough. The next step will automatically search all subfolders for Sound Effects and will add them to your Sound Library.
After the scan is successful you will see the message where it will show you how many new SFX are added to the Sound Library. Thats it. Now all of these SFX are available in all of your projects. You don't have to manually import these files anymore. You can access them via the Sound Library on the Fairlight Page.
How To use the Sound Library in DaVinci Resolve iPad?
The idea is that you use the search bar to find related SFX. After typing in for example "Step" it shows you all the SFX related to that search term below. Here you can play the SFX. Mark them with Stars and simply Drag & Drop them into your Timeline.
How To add additional SFX to the Sound Library?
Same as before you can click again on "Add Library…" and even select SFX from a new location. It will add all of these to the Sound Library. You will not lose the other ones.
For example in our Seamless Transition Pack for DaVinci Resolve iPad you will find additional 126 SFX that you can use. Like Glitch SFX that are not part of the Free Sound Library. Also i created subfolders of these SFX to make the navigation easier. But you simply have to select the top folder and DaVinci will scan through all the Subfolders.
BONUS: All DaVinci Resolve iPad Masterclass Students get the Transition Pack for FREE!
You can either get the Transition Pack separate here: Seamless Transition Pack for DaVinci Resolve iPad. Or all of our DaVinci Resolve iPad Packs are a FREE Bonus for the DaVinci Resolve iPad Masterclass Students.
Check It Out here DaVinci Resolve iPad MasterClass: From Beginner To Pro.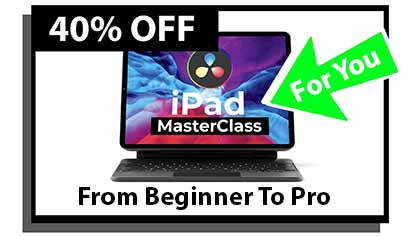 Read Next
• How COPY Color Grade to MULTIPLE Clips in DaVinci Resolve iPad
• DO THIS to make DaVinci Resolve FASTER! (Instead of rage smashing your iPad)
• How To Delete Cache Files in DaVinci Resolve iPad
• How To Color Correct iPhone Footage in DaVinci Resolve iPad
• Easy Sync Audio & Video in DaVinci Resolve iPad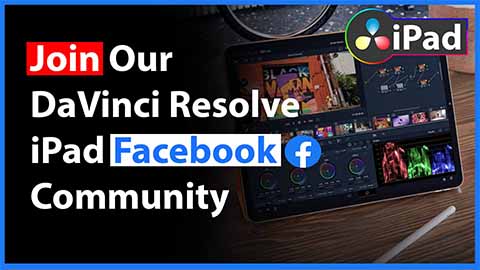 Ciao Daniel 🙂
Follow Me on YouTube, Facebook, and Instagram.
If you found this article helpful, share it.