Today i will show you two solutions how you can remove a green screen in Davinci Resolve for your iPad Pro. First solution will need the Edit Page. And second solution will need the Fusion Page. How you can UNLOCK All Pages even without a Hardware Keyboard – Read this article first: FULL DaVinci Resolve on iPad without a KEYBOARD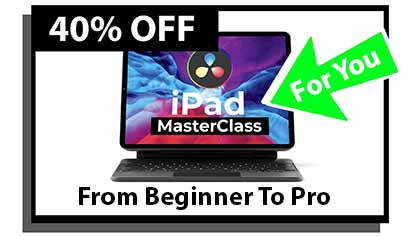 [Video] How to remove Green Screen in DaVinci Resolve iPad
Solution 1: Using 3D Keyer Effect in Edit Page
Step 1: In the Edit Page go to Effects. Under Open FX in the Kategorie Resolve FX Key drag the 3D Keyer Effect to your Green Screen Clip.
Step 2: Change the Viewer to Open FX Overlay
Step 3: Use the Pickers on the Top of the 3D Keyer Effect in the Inspector. Draw on the Green Background in the Viewer. Notice, sometimes drawing doesn't work. So just use the – and + to add shades of green points.
Step 4: Inside the 3D Keyer Effect go to Outout and change it to "Alpha Highlight B/W"
Step 5: Under Matte Finesse change the value of Clean Black until all of the differen shades of green are black. Change the Output back to "Final Compose" to see all colors.
Step 6: To get all the left over green areas like in the corners away go to Behaviour Options and change the Despill value. Now your Green Screen in DaVinci Resolve iPad should be transparent. You can put another clip below.
✩✩✩ Create amazing Blockbuster Movies with this easy to use Drag & Drop
Blockbuster FX from BigFilms.
Mehr Info
Solution 2: Using Chroma Key in Fusion Page

Step 1: Add the Delta Keyer (DK) Node. With Keyboard: Select the first Node. Shift + Space. And search for Delta Keyer. Without a Keyboard: Go to Effects and search for Delta Keyer.
Step 2: In the Inspector select the Background Color. Click on the Color. In the Color Window select the Color Picker and pick the green Color in your Viewer.
Step 3: To get the last details done. Change to the Matte Tab and change the Threshold from the Beginning and the End until no more Green is visible. Done, your Green Screen in DaVinci Resolve iPad is gone.
If you work with Green Screens and VFX you should defiantly check out the guys from Big Films
They created a couple of amazing Drag & Drop special effects. That also work on DaVinci Resolve iPad. Like their famous Superhero Pack. Where you can create animations like in the Marvel Movies.
✩✩✩ Make Movies like Marvel with this easy to use Drag & Drop
Superhero FX from BigFilms.
Mehr Info